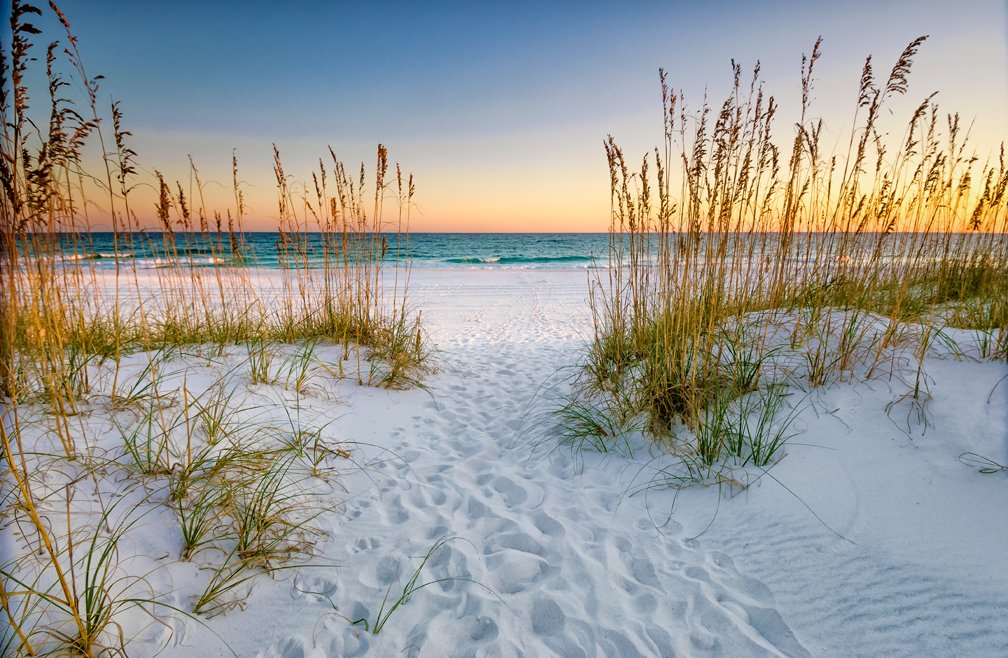 About Florida
Florida's sun, its sandy beaches, the electric life of Miami, Orlando's amusement parks, the nature of the Everglades, the universities, the Keys and their transparent waters, Cape Canaveral and its rockets… Florida is a destination of choice, and a safe bet for revelers, the curious, groups and singles. But what should you know about Florida?
Sunshine State
Florida is the 22nd largest American state and covers an area of ​​155,369km2, of which 15,000 are swamps: the Everglades.
This American state, the most southerly of the USA, is renowned for its peaceful and magnificent beaches, its amusement parks in Orlando, its ever-present sun.
More than 18 million Americans live in Florida and nearly 90 million tourists come there each year. Walt Disney World, the Kennedy Space Center, Sea World, Miami Beach, Key West are among the must-see visits.
Florida climate
In this southern state, the low season is not what you might think. It turns out many visitors prefer winter to summer as it is less hot and more pleasant.
Winter in Florida is known to be mild, sunny and rather dry. Many Americans, especially cold New Yorkers, come for the of heat. It rarely rains and the temperature is always very pleasant. Don't take the monokini out either, as sometimes you need a little sweater at dusk, however, most of the time, Florida's café terraces are full. It's high season for restaurants, discotheques and bars, but also hotels, which increase their prices.
Spring and autumn are also pleasant seasons, with a certain humidity, but some sun and rather high temperatures.
Summer on the other hand, is very humid and corresponds to the hurricane season. It rains very often, tropical rains, dense and very short, which then give way to a scorching sun. Many Floridians leave Florida in summer for drier states.
Florida economy
Florida is the fourth state of the United States by its GDP which amounts to more than 5% of the American GDP.
Florida's economy is strong with a large labor force despite its above average unemployment rate. Florida is one of the few states to have introduced an inflation-adjusted minimum wage.
Tourism remains the main base of the Florida economy along with agriculture and transportation. Florida is still famous for its citrus fruits, its space center at Cape Canaveral, its amusement parks in Orlando and its green golf courses.
Florida tourism
Florida is known for its blue water and sandy beaches, palm trees and sun, trendy bars and good restaurants, and a 6 hour time difference with Europe.
The tourist population is rather heterogeneous. Families come here for the Cape Canaveral Space Center or the Orlando Amusement Parks, or even the many other outdoor parks and activities.
Young people come to party, enjoy the beautiful beaches, compare the various nightclubs and trendy bars.
Adults and the curious can find diverse and varied museums, Art Deco architectures such as Miami Beach mixed with constructions of European influences and designer boutiques. In short, there's something for everyone.
Florida is the fourth most populous state in America, after California, Texas and New York State. Floridians make up a total population of over 19 million. There is a strong Cuban and Hispanic presence, so don't be surprised if you hear more Spanish than English on the street. The French are also present in Florida (2.2%) as well as the Germans and the Italians.
Main Florida attractions
Some of Florida's most popular attractions include:
Miami and Miami Beach, a fantastic center for tourism and cities that today has a world-class cultural and economic dimension.
Orlando and its amusement parks, its thousands of golf courses, its hotels by the sea. The best amusement parks are in Orlando.
The Keys and its hundreds of islands extending to Key West. The Keys are also sites to visit just to enjoy the panorama and the activities offered there (scuba diving, jet pack, jet ski, parasailing). The best dive spots are in Key West.
The Everglades and its reptiles, its thousands of kilometers of beach. The Everglades National Park is a must in Florida. Visited by a million people a year, the park is listed as a UNESCO World Heritage Site.
The main cities not to miss in Florida are:
Miami
Located in the southeast of the state of Florida, Miami is an international financial and cultural center. Also not to be missed, Miami Beach, a real seaside resort often compared to Nice or the French Riviera for the luxury of its hotels and the beauty of its landscapes.
Naples
In reference to the eponymous Italian city, Naples is located in the southwest of Florida. It's a pretty quiet town, but it has a certain charm.
Jacksonville
Located in Duval County, Florida, Jacksonville is an industrial city. Renowned for its hospitality, it also has long white sand beaches and many buildings from the 1920s. The city is also famous for having housed studios where hundreds of silent films were produced at the beginning of the 20th century.
It was in 1562 that the city was founded by the Frenchman Jean Ribault. The following year, the French were driven out of Jacksonville by the Spaniards. Jacksonville has many sights to see. Tourists will mainly go to the Florida Theater, the Fort Caroline National Memorial, but also to the Friendship Park Fountain or the Zoological Gardens.
The city of Jacksonville is clean and beautiful thanks to the local Jacksonville waste management companies that make sure pollution is minimized. Other sites such as the Ritz Theater, the Villa Museum, the Cummer Museum, or the Budweiser Brewery, will also attract visitors.
Fort Myers
A little Floridan town worth discovering, Fort Myers is out of the usual beaten tracks, but it does not have less charm. There the beaches are pristine and it is easy to find a dumpster rental in Fort Myers as residents are very conscious about their environment.
Tallahassee
Capital of Florida, it is located to the northwest. It is an administrative and university city, it has 50,000 students enrolled in higher education. Do not miss the Florida History Museum in Tallahassee.
Sarasota
Pink flamingos, fine sandy beaches and old museums… a short tour of the town of John Ringling Renowned for being the cultural center of Florida, the city of Sarasota has managed to preserve its naturalness and beauty, with its little corners far from the crowds. Tranquility, authenticity and art, these are the three traits of Sarasota, the small town where life is good, thanks to its good waste management and anti-pollution practices.
St Petersburg
In the west part of the state, there are 360 days of sunshine per year in St Petersburg, which explains its nickname of "Florida's Sunshine City". Here, it is not clear how it is supposed to correspond to its Russian twin.
Fort Lauderdale
Fort Lauderdale, located on Florida's southeastern coast, is renowned for its beautiful beaches that attract visitors from around the world. The city boasts over seven miles of pristine coastline and offers a wide range of activities and amenities for beachgoers. Fort Lauderdale's beaches are known for their soft, white sand and crystal-clear turquoise waters. With year-round warm weather, these beaches provide the perfect backdrop for sunbathing, swimming, and water sports. Whether you're looking to relax on a towel or engage in activities like beach volleyball or paddleboarding, Fort Lauderdale's beaches offer something for everyone.
The beaches of Fort Lauderdale are also famous for their vibrant atmosphere and lively beachfront scene. Along the coastline, you'll find a bustling promenade known as the "Strip," lined with restaurants, bars, and shops. This vibrant beachfront area offers a lively atmosphere, where visitors can enjoy waterfront dining, grab a refreshing drink, or shop for souvenirs. Additionally, Fort Lauderdale Beach Park provides picnic areas, playgrounds, and volleyball courts, making it an ideal spot for families and outdoor enthusiasts. Fort Lauderdale's beaches are home to a rich variety of marine life and offer opportunities for snorkeling and scuba diving. With its close proximity to the Atlantic Ocean and a thriving ecosystem, visitors can explore colorful coral reefs, encounter tropical fish, and even spot sea turtles and dolphins. Fort Lauderdale's beaches provide an immersive and unforgettable experience for those seeking to discover the wonders of the underwater world.
Fort Lauderdale's beaches offer a blend of natural beauty, vibrant beachfront scenes, and opportunities for outdoor activities. From sun-soaked relaxation to water sports and exploring marine life, the city's beaches provide an alluring destination for both locals and tourists seeking a quintessential Florida beach experience. You can click here to find out how local businesses are helping keeping the city clean!